Hardware specifications
The X96 Mate Android TV box has a box design with round corners. it is about 106 x 106 x 18 mm in size. It is obviously one of the most spectacular smart TV boxes you will find.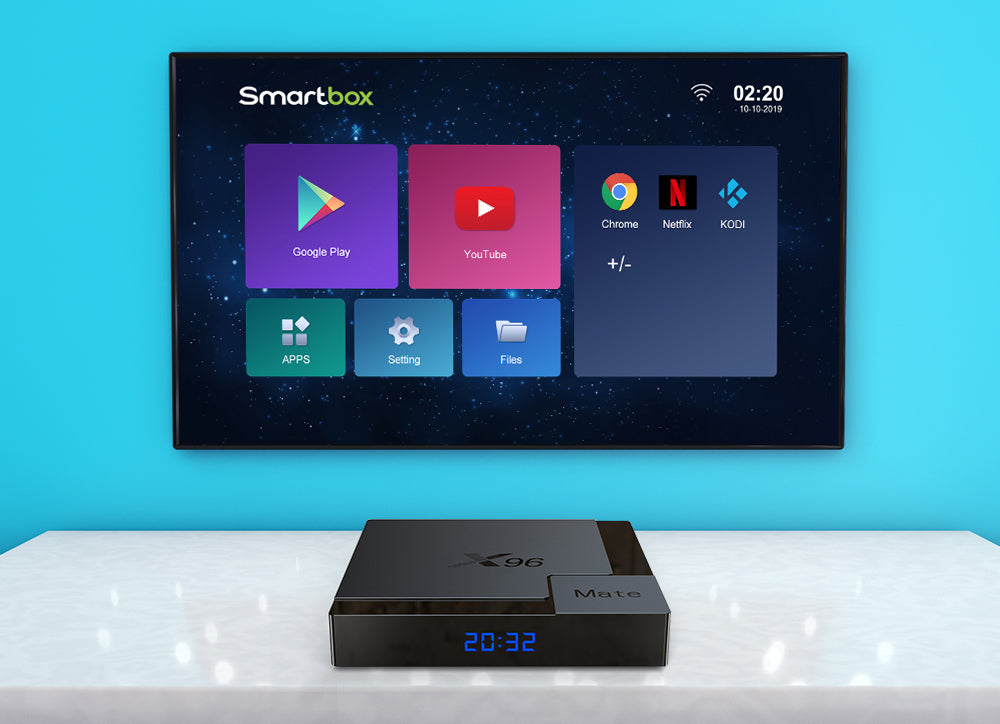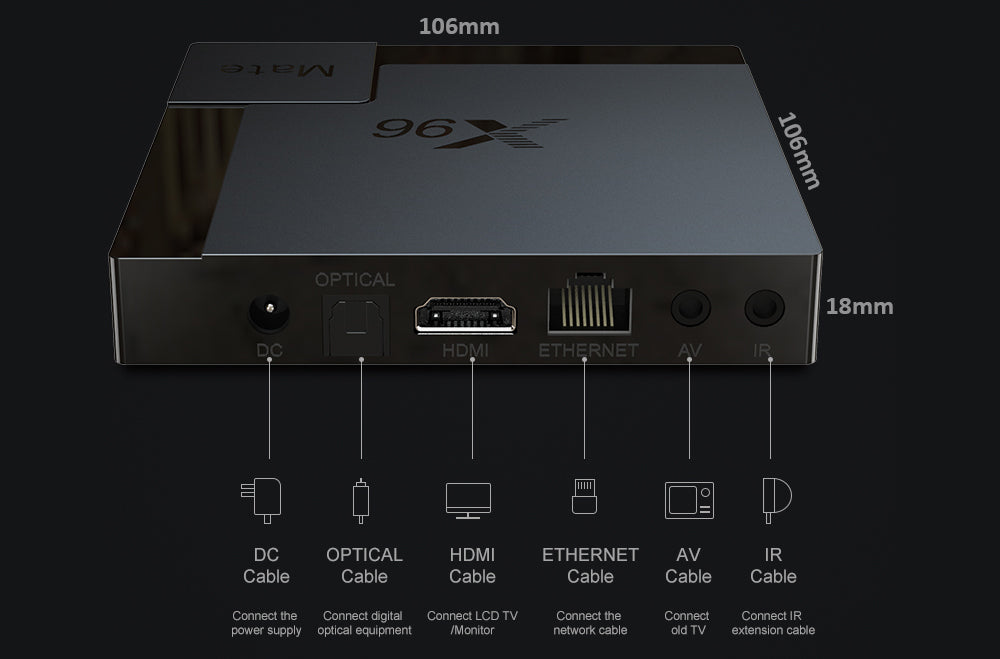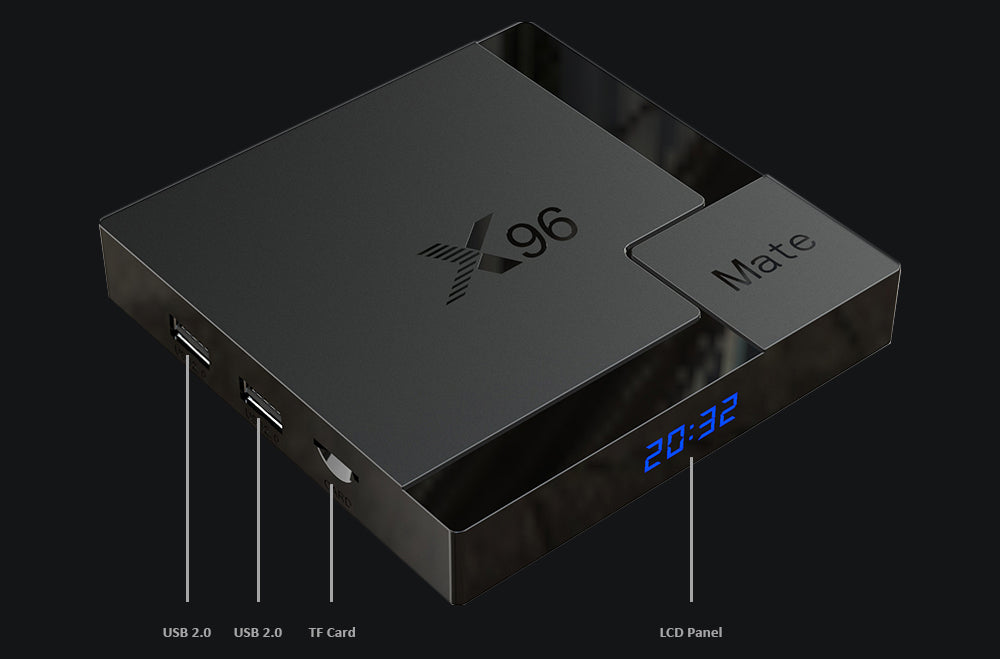 The X96 Mate is a beautiful smart TV box device that features Allwinner H616 64-bit Quad-Core ARM Cortex A55 CPU, Mali-G31 MP2 GPU, 00M LAN, Built-in 2.4G & 5G dual Wi-Fi, USB 3.0, H.265 HEVC, and maximum 6K@30fps H.265 decoding performance.
CPU: Allwinner H616 64-bit quad core ARM® Cortex™ A55
GPU: G31™ MP2
Android 10.0 OS
RAM (Memory): DDR3 4GB
ROM (Flash): eMMC 32GB & 64GB
WiFi: IEEE 802.11 b/g/n/ac, 2.4G & 5.8GHz Dual WiFi
Bluetooth: Bluetooth 5.0
HDMI 2.0A: Support multi-video decoder up to 4Kx2K@60fps & 1x1080P@60fps
AV: 480i/576i standard definition output
USB: 2x USB 2.0
IR: Remote Receiver Connect
RJ45: Ethernet Interface, 10/100M
TF CARD: Support 4GB & 8GB & 16GB & 32GB & 64GB
Power: DC 5V/2A, LED indicator, Blue for working and Red for standby
Video: Video Engine (AVE) with dedicated hardware decoders and encoders
Support multi-video decoder up to 4Kx2K@60fps & 1x1080P@60fps
Supports multiple secured video decoding sessions and simultaneous decoding and encoding
Video Decoding
VP9 Profile 2 up to 4Kx2K@60fps
H.265 Main10@L5.1 up to 4Kx2K@60fps or 6K@30fps
AVS2-P2 Profile up to 4Kx2K@60fps
H.264 BP/MP/HP@L4.2 up to 4Kx2K@30fps
H.263 BP up to 1080P@60fps
MPEG-4 SP/ASP@L5 up to 1080P@60fps (ISO-14496)
MPEG-2 MP/HL up to 1080P@60fps (ISO-13818)
MPEG-1 MP/HL up to 1080P@60fps (ISO-11172)
Xvid up to 1080P@60fps
Sorenson Spark up to 1080P@60fps
VP8 up to 1080P@60fps
AVS/AVS+ JiZhun Profile up to 1080P@60fps
WMV9/VC1 SP/MP/AP up to 1080P@60fps
JPEG HFIF file format up to 45MPPS
Multiple languages and multiple format sub-title video support
MJPEG and JPEG unlimited pixel resolution decoding (ISO/IEC-10918)
Supports JPEG thumbnail, scaling, rotation, and transition effects
Supports *.mkv,*.wmv,*.mpg, *.mpeg, *.dat, *.avi, *.mov, *.iso, *.mp4, *.rm and *.jpg file formats
Audio: Supports MP3, AAC, WMA, RM, FLAC, Ogg and programmable with 7.1/5.1 down-mixing
Audio Codec
Two audio digital-to-analog(DAC) channels
Support 16-bit and 20-bit sample rate
8kHz to 192kHz DAC sample rate
95+/-2dB SNR@A-weight,-80+/-dB THD+N,output Level more than 0.55Vrms
One128*24-bits FIFO for DAC data transmit
built-in TDM/PCM/I2S ports with TDM/PCM mode up to 384kHz x32bits x 8ch or 96kHz x 32bits x 32ch and I2S mode up to 384kHz x 32bits x 8ch
Digital microphone PDM input with programmable CIC, LPF & HPF, support up to 8 DMICs
Built-in stereo audio DAC
Supports concurrent dual audio stereo channel output with a combination of analog+PCM or I2S+PCM
Image: HD JPEG, BMP, GIF, PNG, TIF
Language: English French German Spanish Italian etc multilateral languages
Applications: Rich applications
Browse all video websites, support Netflix, Hulu, Flixster, Youtube, etc
Apps download freely from Google Play Android app market, amazon app store, etc
For applications that cannot be installed from Play Store, you could install them by downloading the relevant APK package, such as our popular MARS TV X IPTV app
Local Media playback, Support HDD, U Disk, TF Card
Support SKYPE video call, MSN, Facebook, Twitter, QQ, etc
Support Email, office suit, etc
DLNA & AirPlay function: Support 2.4G wireless mouse & keyboard
Two hardware versions
The X96 Mate has two hardware versions that differ in their internal storage.
4GB+32GB: 2.4G & 5G Dual Wi-Fi, Bluetooth 5.0
4GB+64GB: 2.4G & 5G Dual Wi-Fi, Bluetooth 5.0

Android-powered Set Top Box
As a smart streaming media player powered by Android 10.0 OS, the X96 Mate TV box has high speed and smooth performance, which is easy to turn your regular TV into a smart one. Since the new Android 10 OS provides greatly optimized for the system, the X96 Mate smart Android TV box can support a minimum of 1G of memory in principle. However, the X96 Mate TV box is starting with 4G RAM and 32G ROM, it will give you everything you need.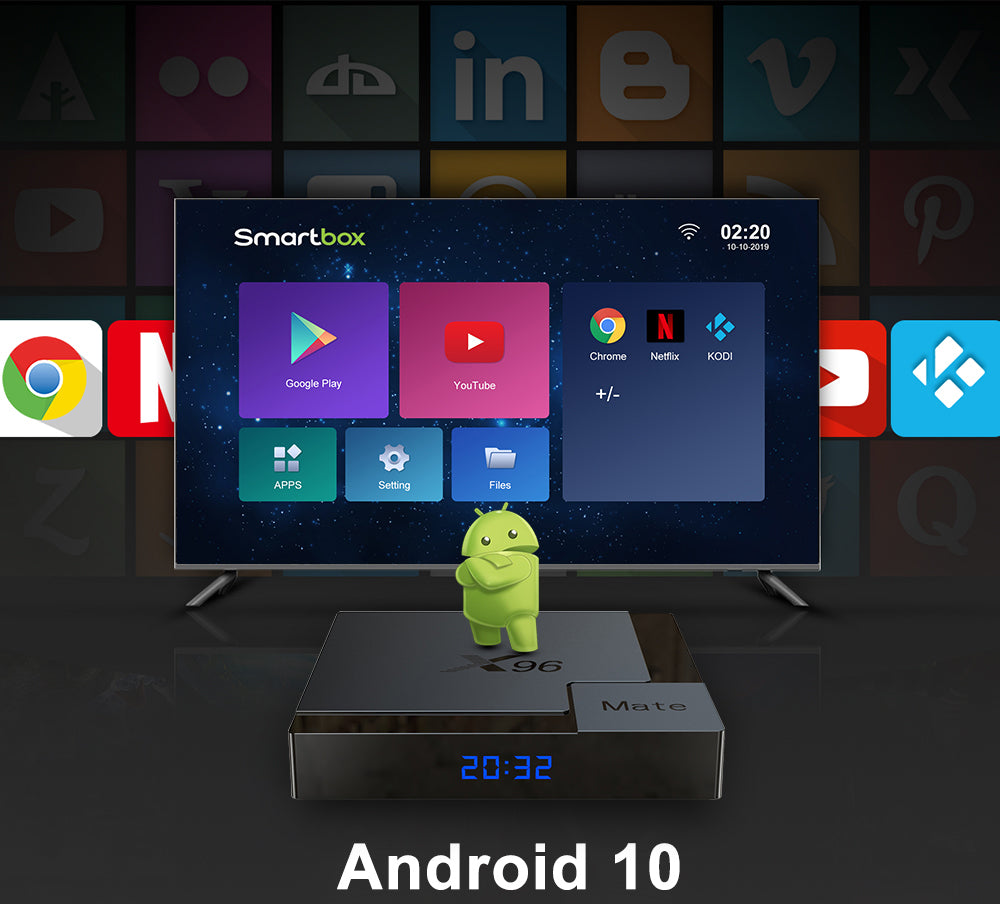 Powerful chips
The X96 Mate Android 10 TV box gives you everything you need. Inside you will find the Allwinner H616 chip, a powerful SoC for you to run everything with smooth running speed.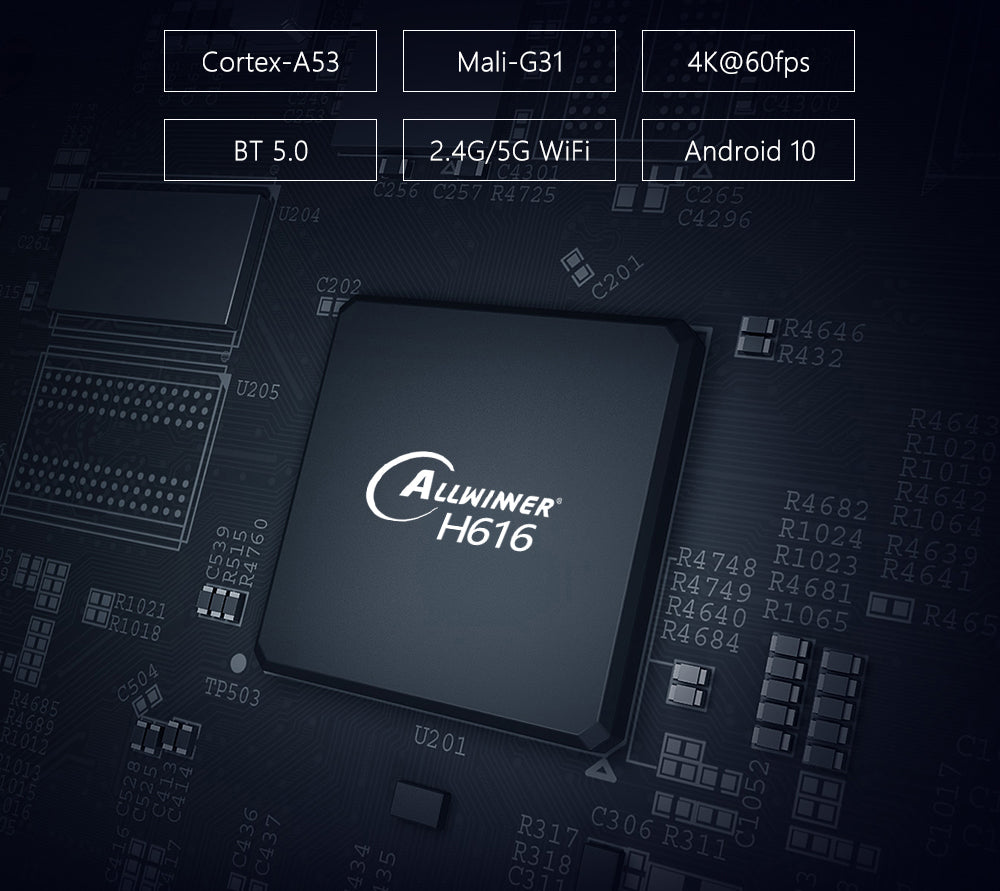 The Allwinner H616 is a new-generation high picture quality 64-bit 4K@60fps decoding SoC. It integrates the quad-core 64-bit Cortex-A53 processor and the new G31 GPU engine of ARM that supports OpenGL ES 3.2/Vulkan 1.1. Besides, H616 supports full-format 4K@60fps 10-bit ultra-HD video decoding, Allwinner self-developed SmartColor3.3 picture enhancement engine, Dolby, and DTS audio processing. H616 adopts the new generation of power consumption technology and reduces power consumption by 20% than the last generation.
Quad-core ARM Cortex-A53, 64-bit architecture
High-performance multi-core G31 GPU, supporting OpenGL ES 3.2/Vulkan 1.1
Full formats H.265/VP9/AVS2 4K@60fps decoding
Maximum 6K@30fps H.265 decoding performance
Low latency H.264 4K@25fps video encoding
Supports HDR10, HLG
SmartColor 3.3 picture enhancement engine
Dual-band Wi-Fi and BT 5.0
In the wireless connection section, the X96 Mate smart Android TV box supports a 2.4&5G dual-band Wi-Fi connection thanks to its internal antenna. And also, the smart box supports Bluetooth 5.0.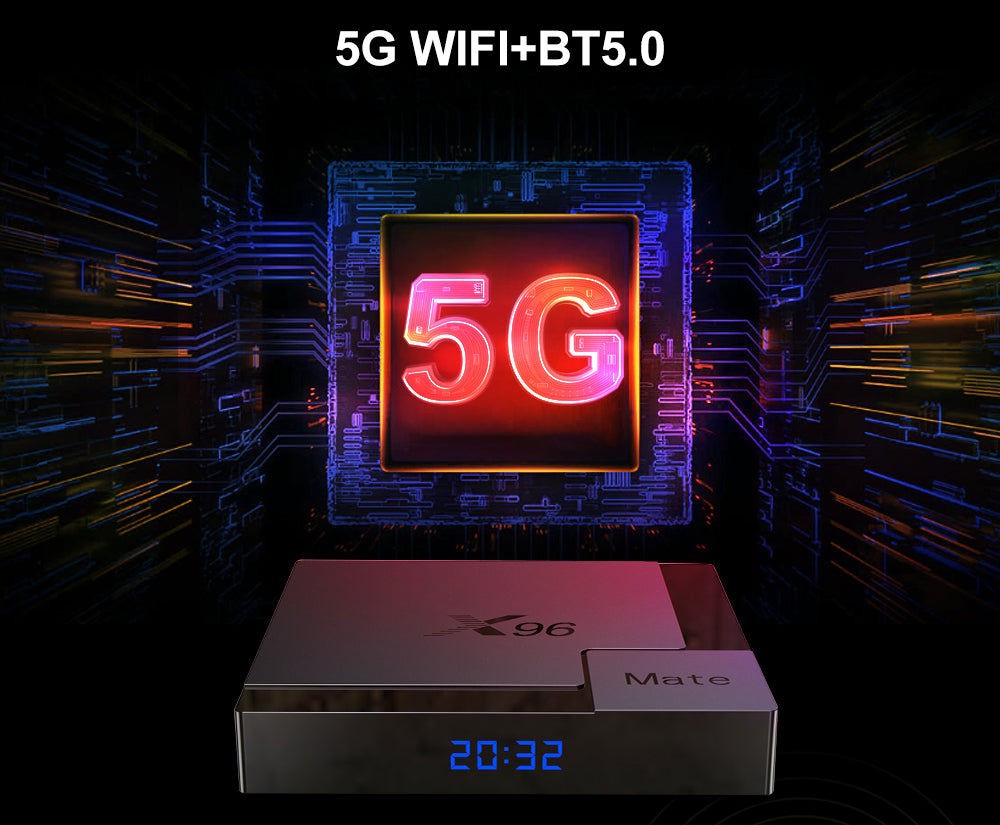 The SmartColor 3.3 image engine
The Allwinner self-developed SmartColor 3.3 picture enhancement engine brings the best large screen experience. It can achieve 4K@60fps HDR video. With an integrated Anti-shake feature, you can get a stable image without causing blurring.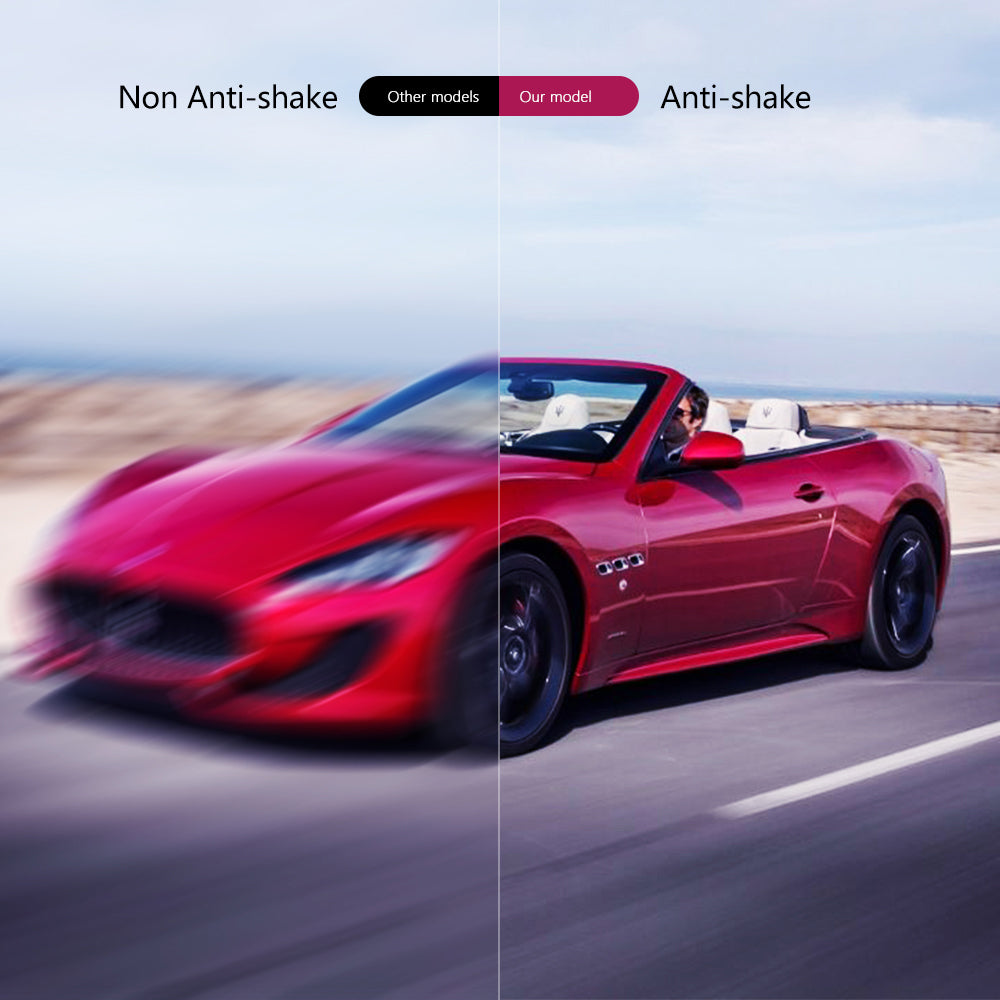 The 3DNR technology
With the special method of suppressing noise in an image called the 3D Noise Reduction (3DNR), the X96 Mate smart box will show you a more thorough image, more delicate and pure picture.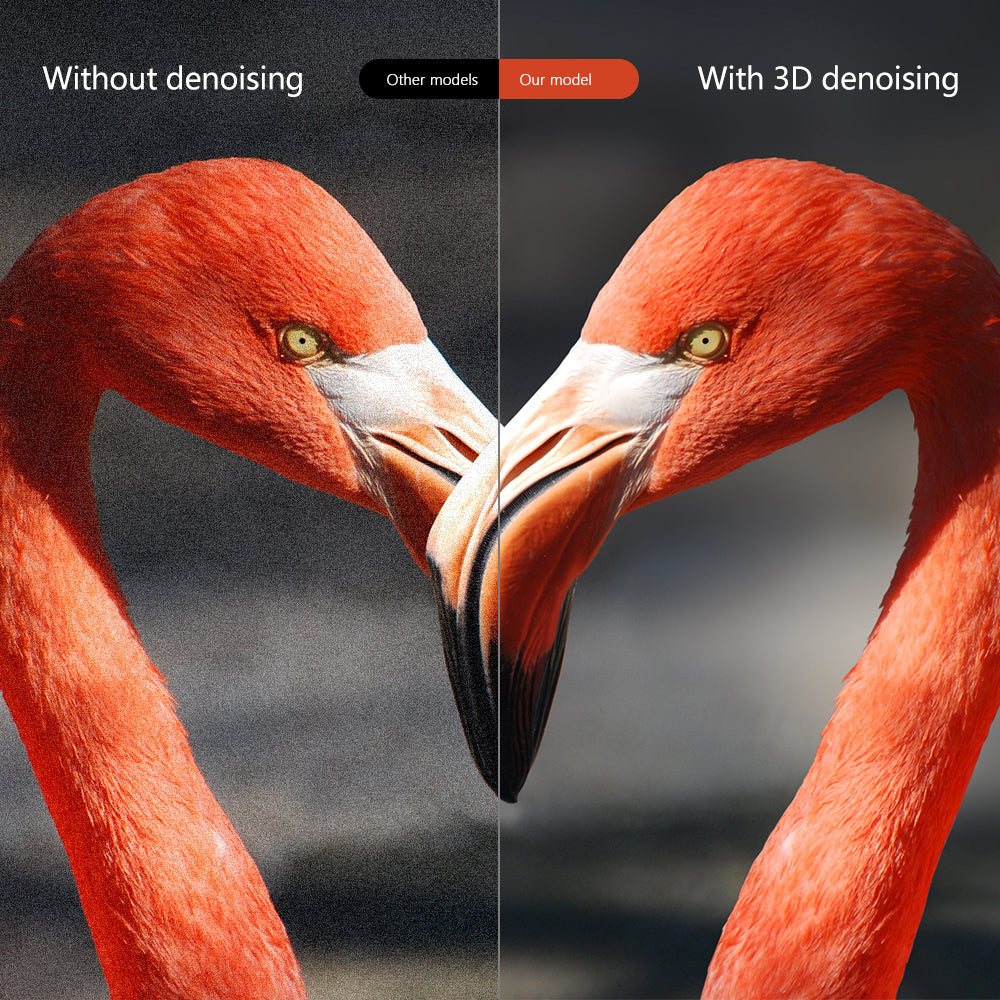 DLNA & AirPlay & Miracast
The X96 Mate Android TV box supports DLNA & AirPlay & Miracast function, which means your video/music/photo can be easily mirrored from your Android devices & iOS devices to the bigger and better screen. You can even play games on the big screen.
On DLNA push mode, you can enjoy watching videos while operating your phone to do other things.
On AirPlay mirror mode, you can easily display your mobile phone screen to the big screen in real-time.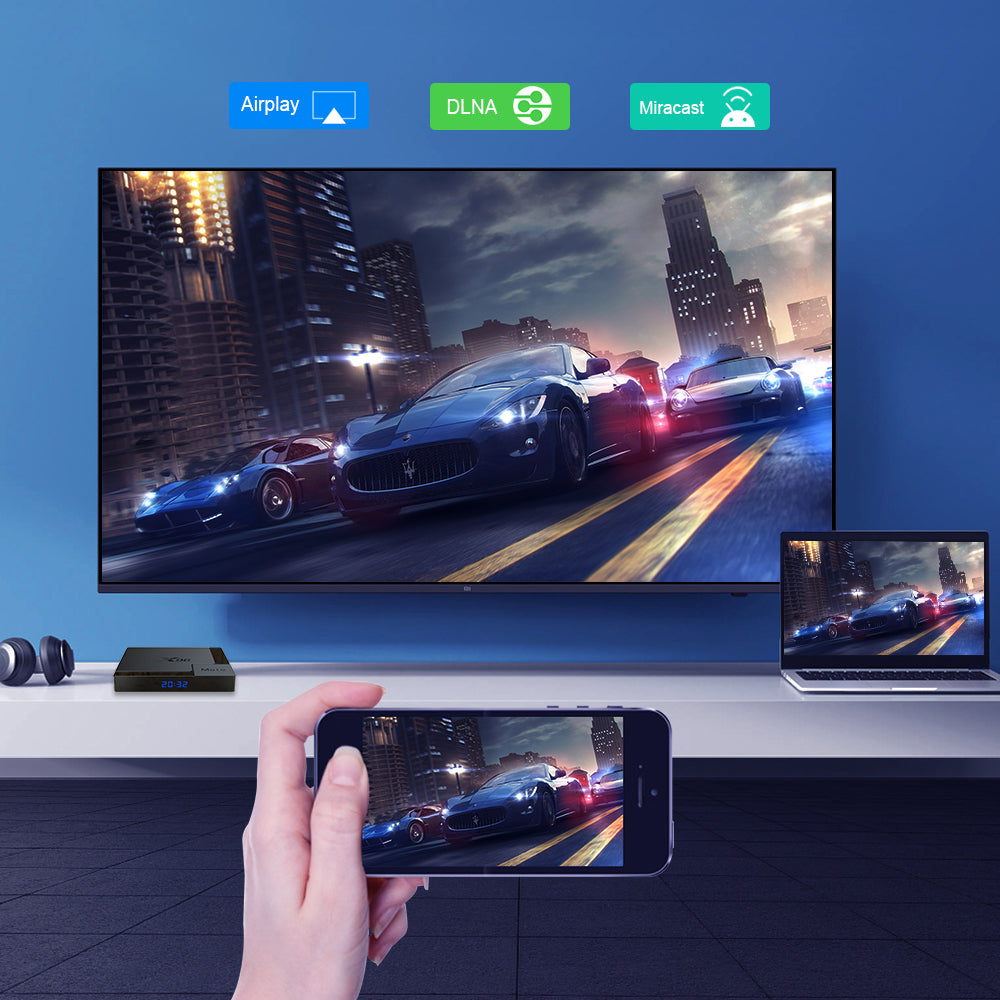 Suitable for various TVs
With an AV interface and HDMI interface, the X96 Mate Android TV box supports a variety of LCD TVs and old TVs.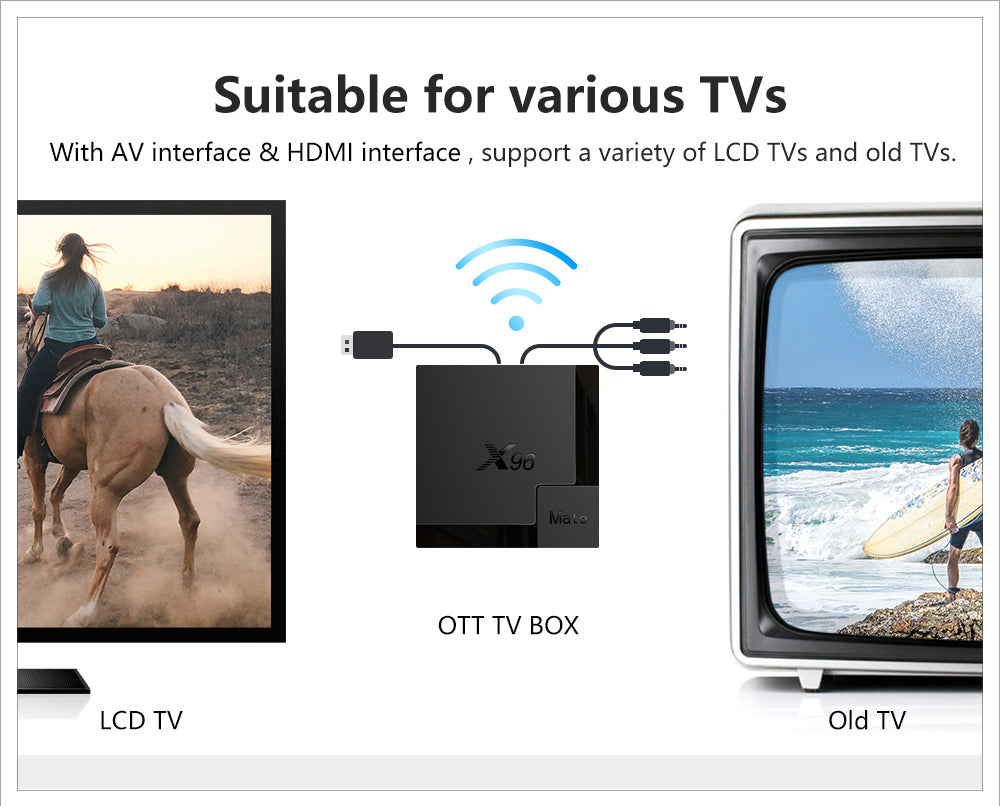 What is included
The X96 Mate Android TV box is accompanied by its Power Adapter, HDMI Cable, Remote Controller, and User Manual.