Description
What is included
The X96Q Android 10 TV box is accompanied by its Power Adapter, HDMI Cable, Remote Controller, and User Manual.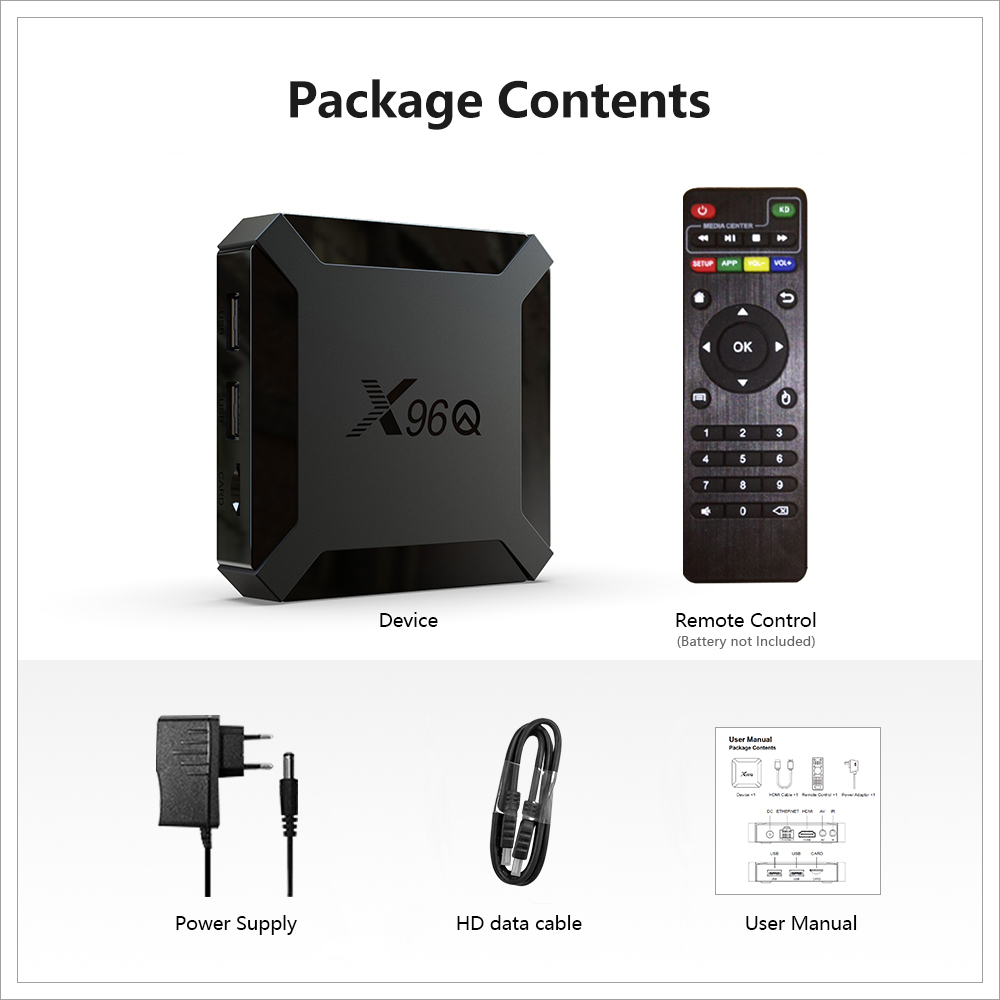 Main features and ports
The X96Q TV box is a new Android TV box, it is about 88.4 x 88.4 x 18.6 mm in size. The device is powered by the new Allwinner H313 Quad Core ARM Cortex A53 CPU and Mali-G31 MP2 GPU. And it is running on the Android 10 OS version.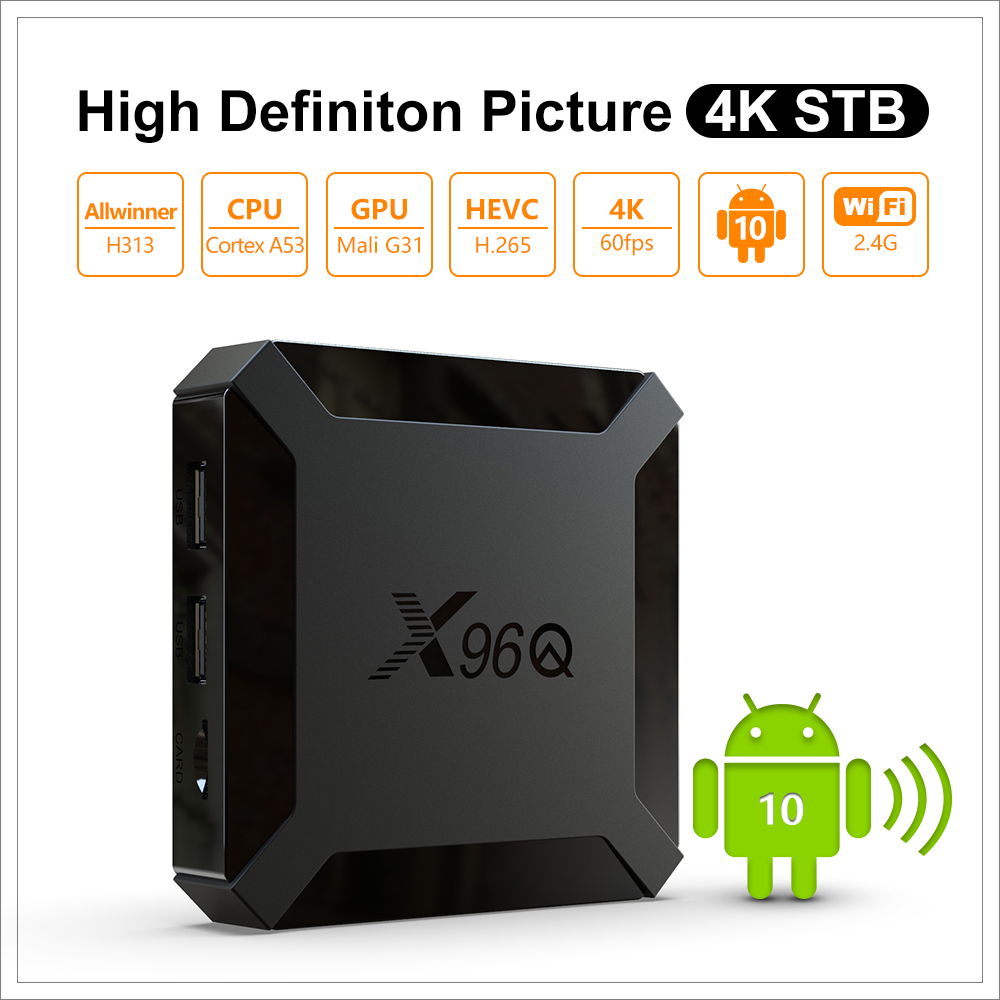 The X96Q has a rich extension interface and can meet various entertainment needs. Specifically, it has a Power port (5V), an RJ45 port (ETHERNET), an HDMI port, an AV port, and an IR port on the backside, and two USB 2.0 ports, and a TF card port (CARD) on the left side. On the front, there is a power indicator light.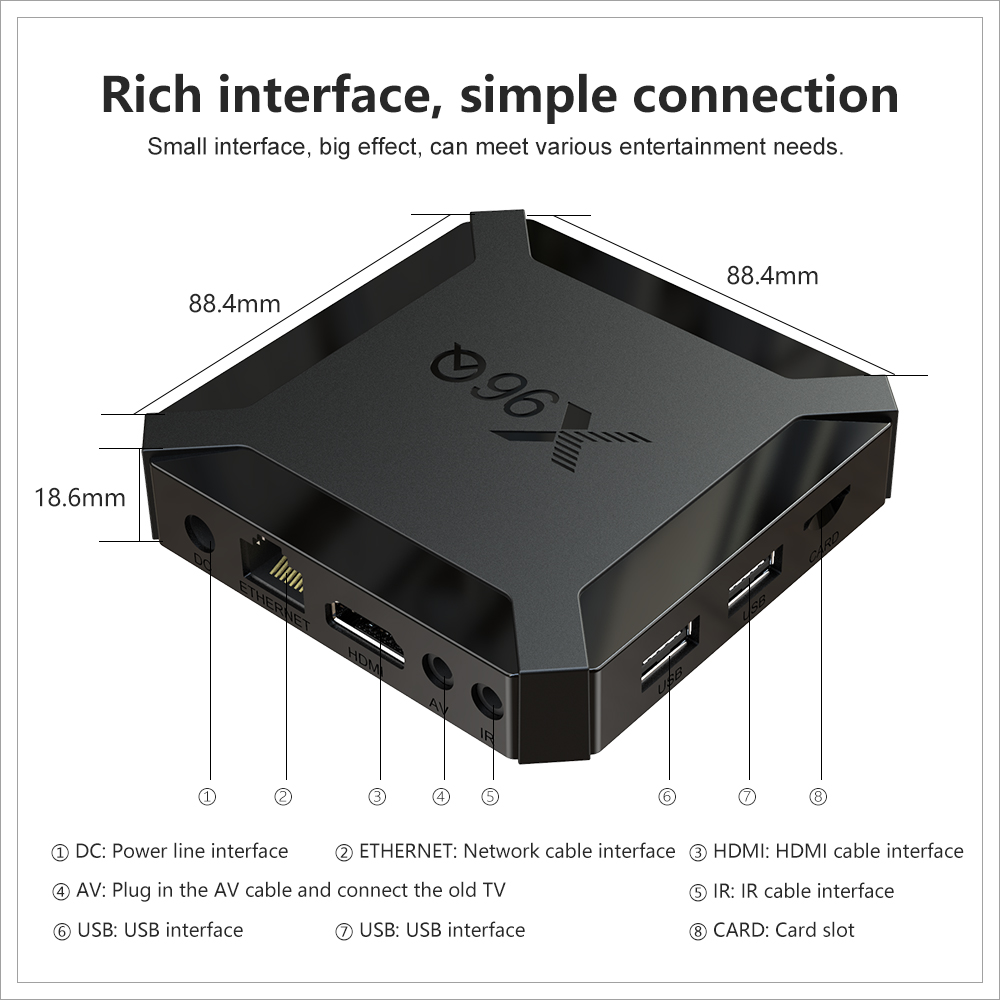 Android 10 TV Box at a low price
As mentioned above, the X96Q streaming video player is running on Android 10 OS. Frankly, the box is the first to support Google's new system Android 10 at a low price. Since Android 10 provides greatly optimized for the system, the X96Q can support a minimum of 1G of memory. Of course, the X96Q TV box is available in several variants, starting with 1G RAM and 8G ROM, a version with 2G RAM and 16G ROM is currently available.
Android 10 system natively supports Vulkan 3D technology, which has higher efficiency and lower load. The file encryption technology is based on the Google Adiantum algorithm, enabled by default to avoid data leakage caused by Flash. Smarter background memory helps faster-killing processes, the foreground process is less affected by the background process. New dynamic partitioning technology makes Flash partitions flexible and storage space-saving.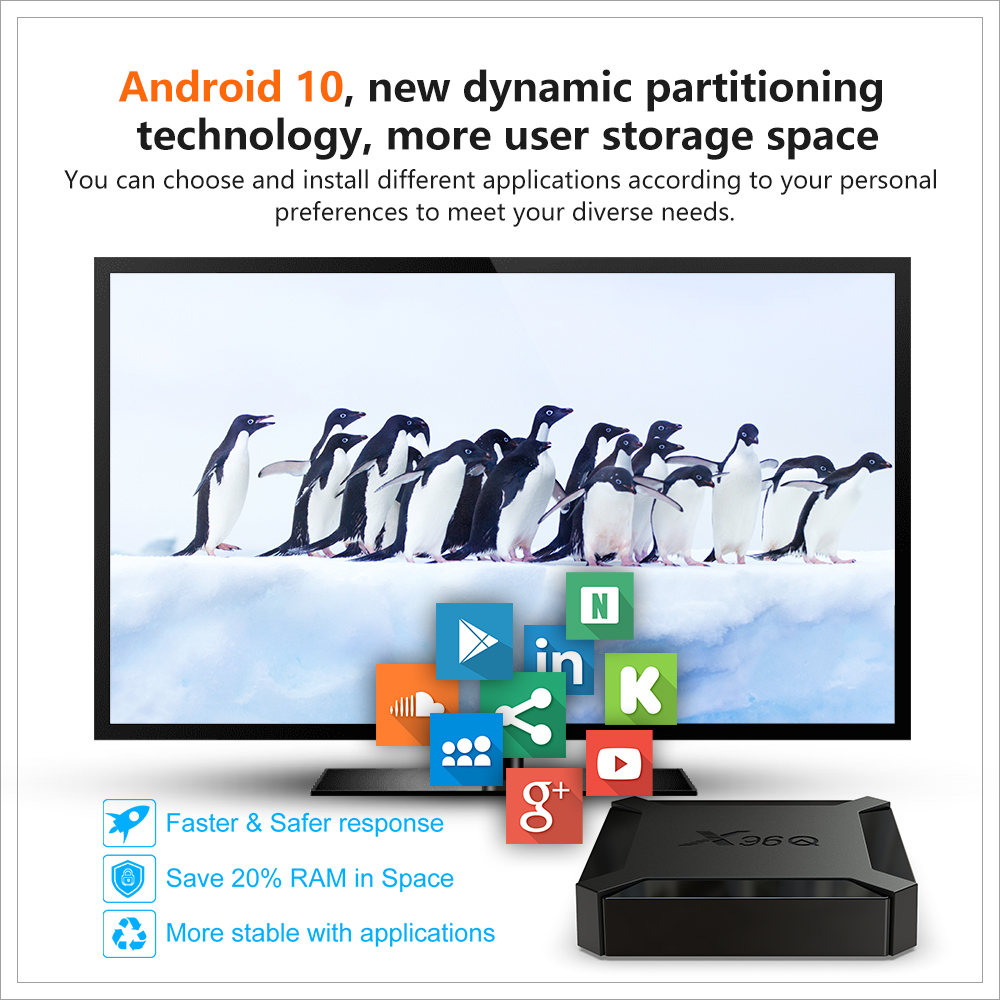 The Allwinner H313 chip
The X96Q box uses new SoC called H313 from Allwinner. The new Allwinner H313 SoC is 1.35GHz at the frequency, it probably has a better performance than the RK3229, H3, and S905W. Most importantly, it supports Android 10. Also, the SoC comes with the Mali-G31 MP2 GPU which supports OpenGL ES 3.2 and H.265 decoding at 4K@60fps and ensures you enjoy an exceptional user experience in the smallest area, whether high definition viewing and fluent video playing or playing games.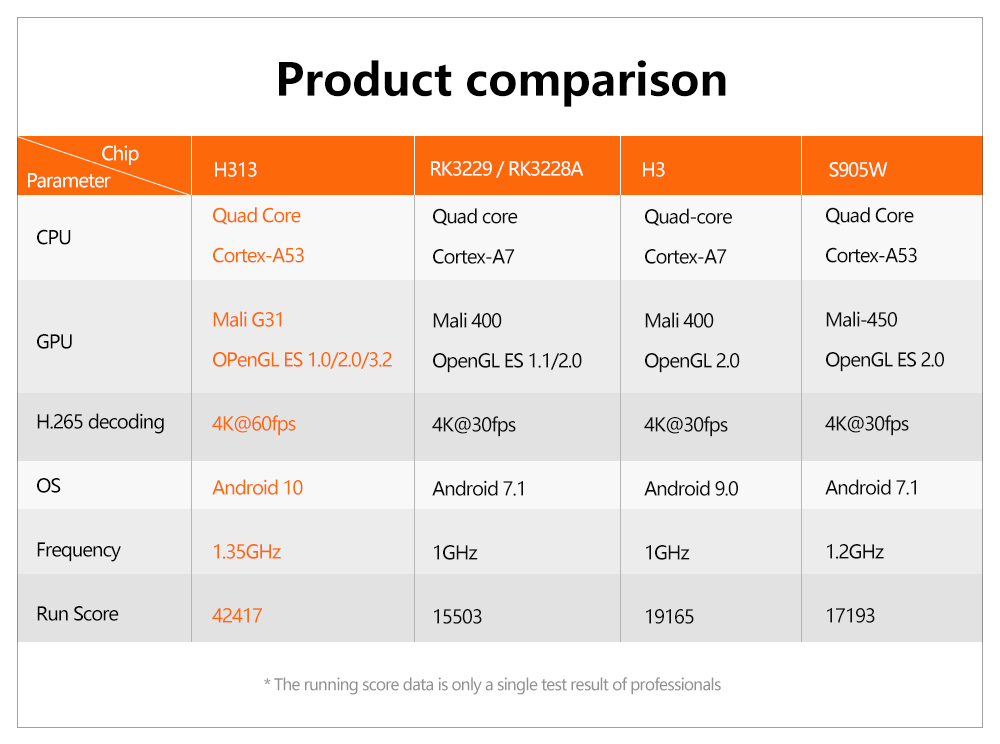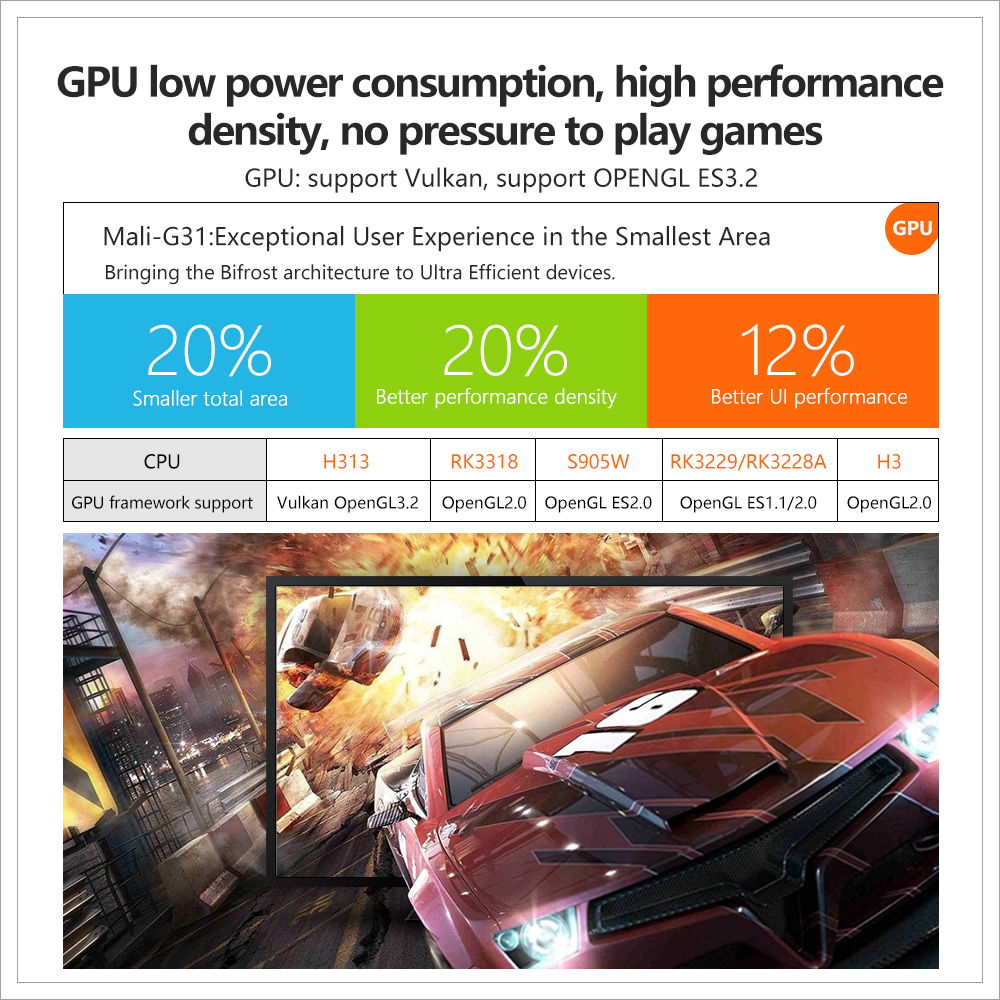 Wired and wireless networks
The X96Q supports 2.4G Wi-Fi and network cable connection and supports USB local playback, convenient and easy to use.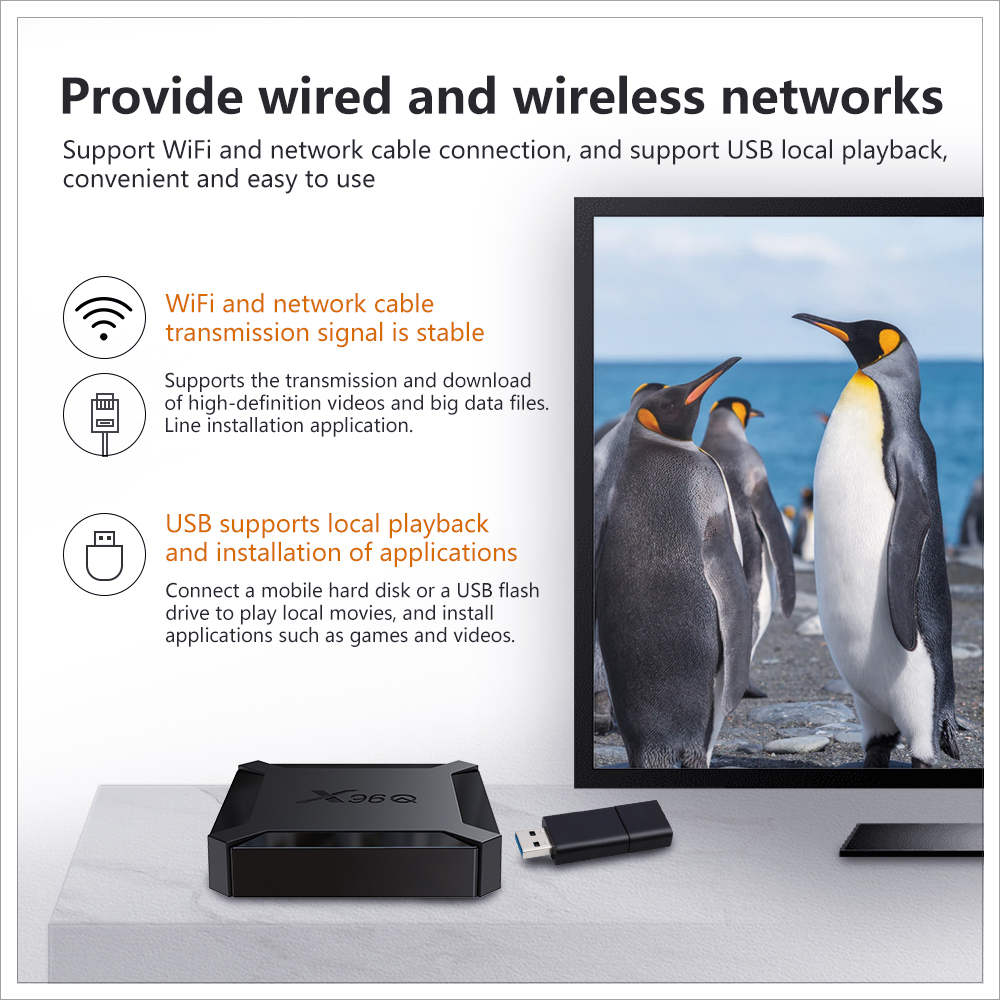 The SmartColor 3.1 image engine
The new-generation SmartColor 3.1 image quality engine and 14 image quality improvement algorithms bring the best large screen experience. It can achieve 4K@60fps video, vertical keystone correction, and does not occupy any CPU and GPU resources.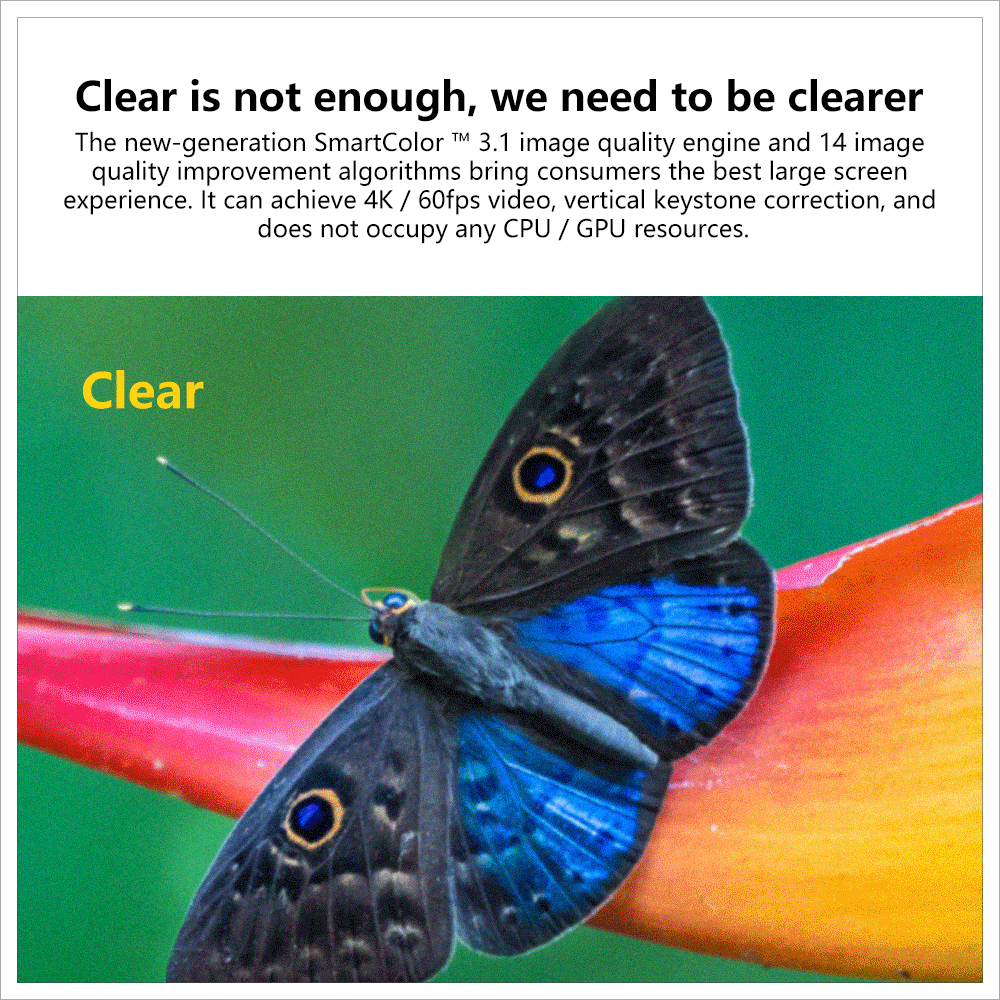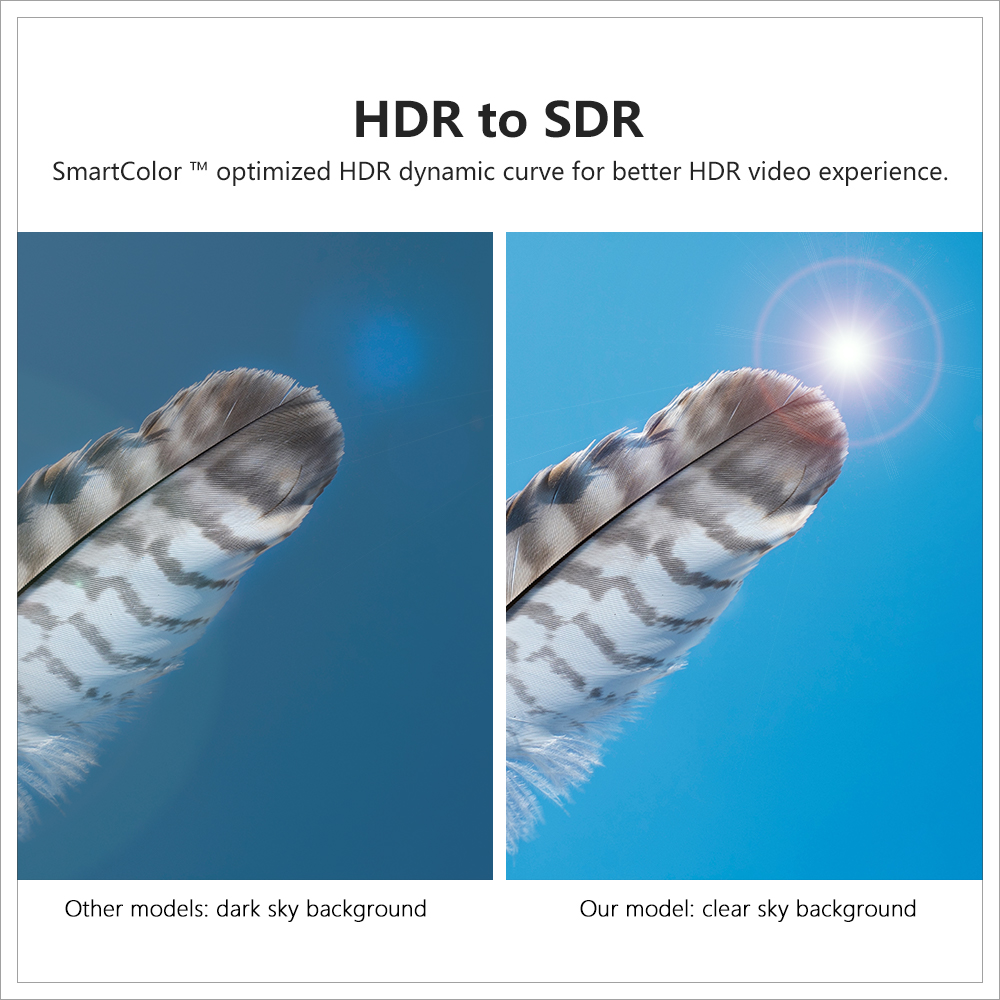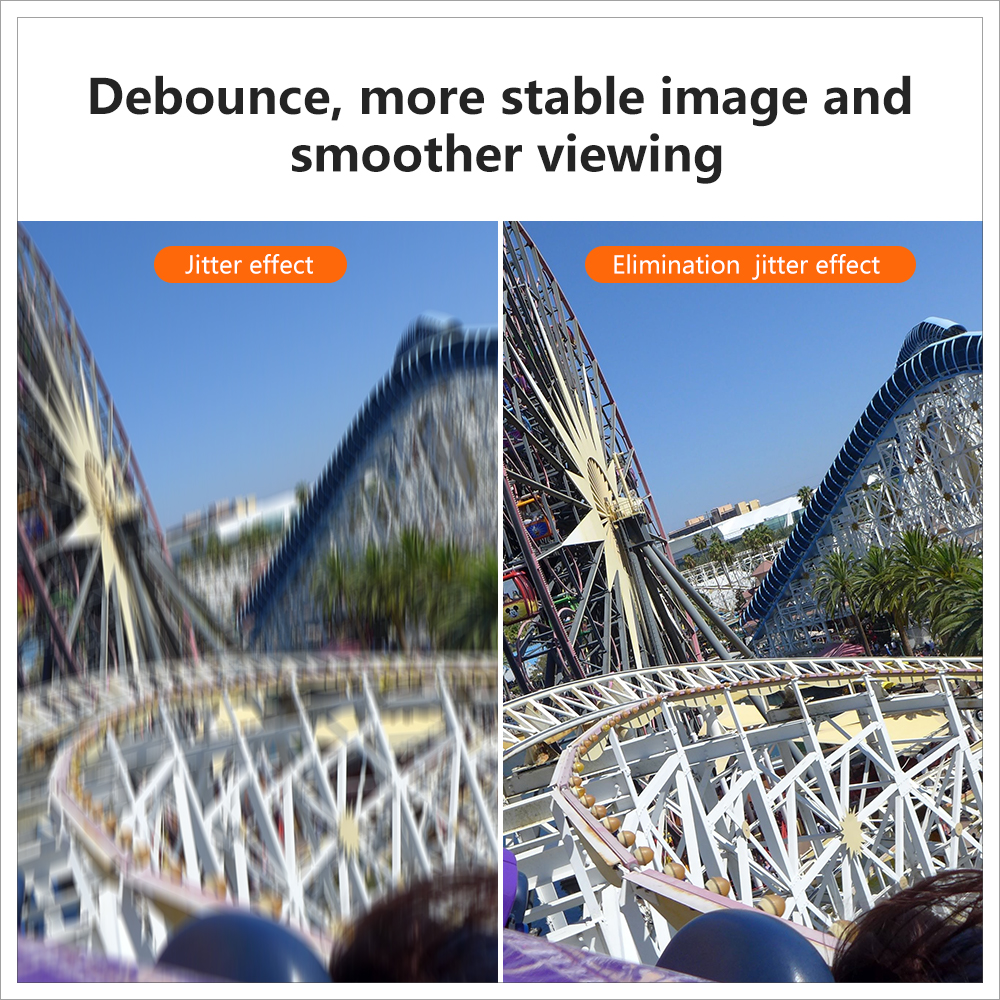 The 3DNR technology
With the special method of suppressing noise in an image called the 3D Noise Reduction (3DNR), the X96Q will show you a more thorough image, a more delicate, and pure picture.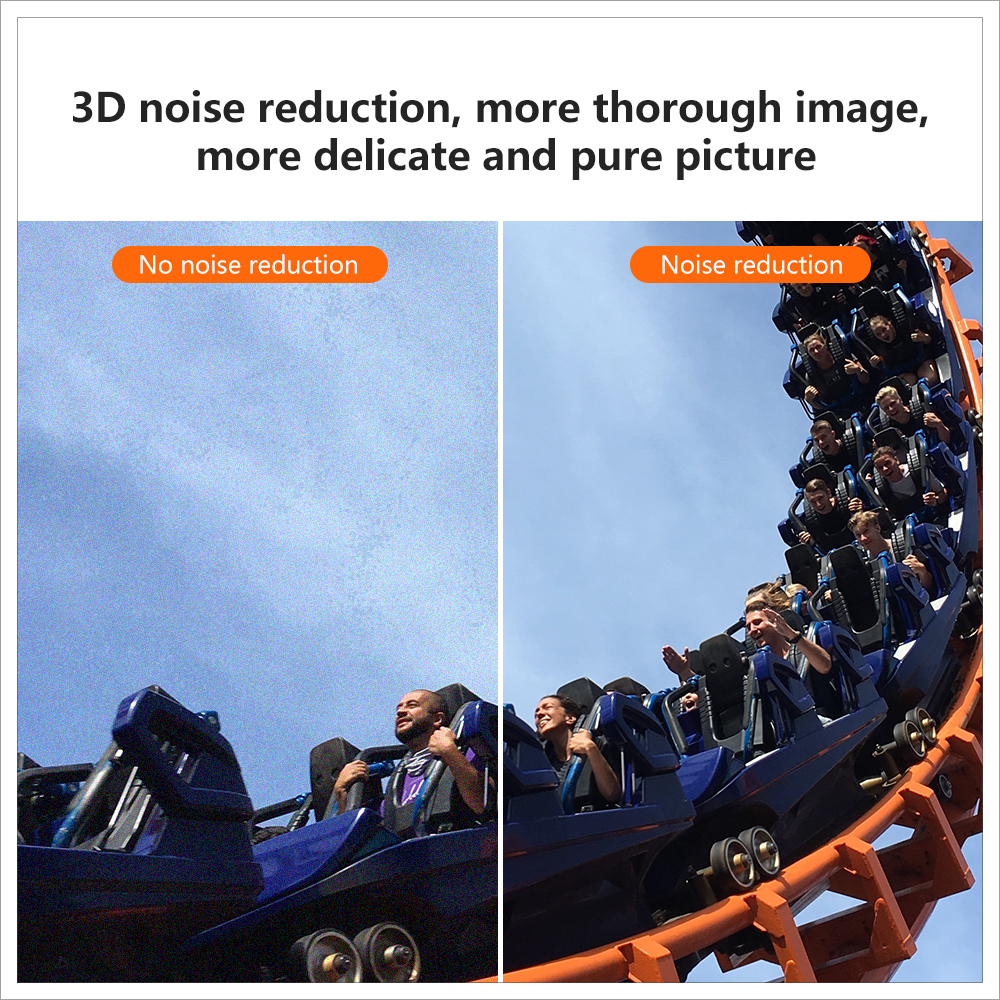 DLNA & AirPlay & Miracast functions
The X96Q Android 10 TV box supports DLNA & AirPlay & Miracast function, which means your video/music/photo can be easily mirrored from your Android devices & iOS devices to a bigger and better screen. You can even play games on the big screen.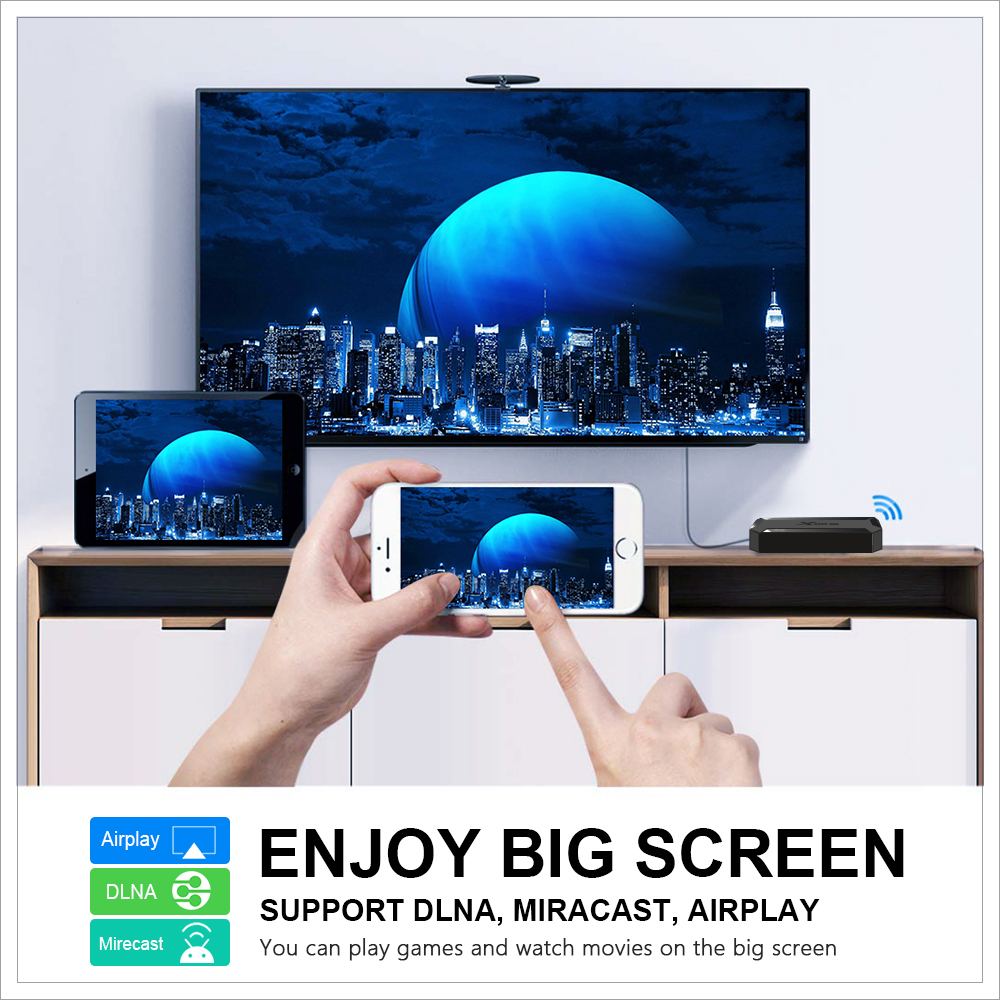 On DLNA push mode, you can enjoy watching videos while operating your phone to do other things
On AirPlay mirror mode, you can easily display your mobile phone screen to the big screen in real-time.
Suitable for various TVs
With an AV interface and HDMI interface, the X96Q Android TV box supports a variety of LCD TVs and old TVs.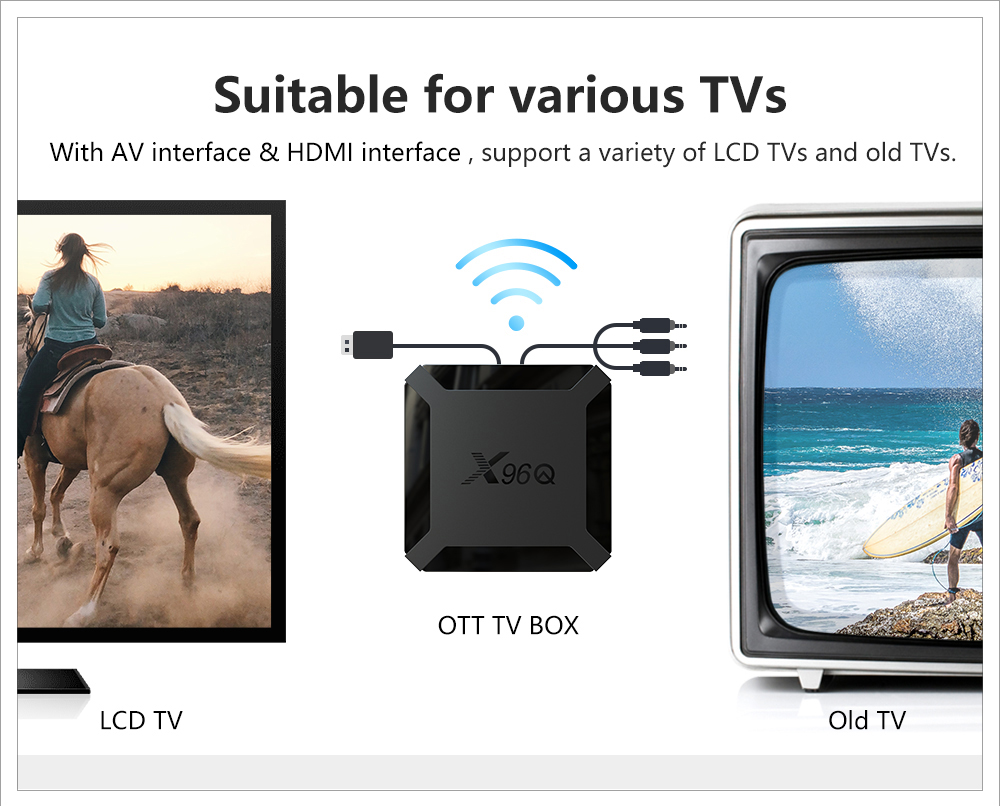 Rich applications
After turning on the X96Q, you will find a simple and quite clear interface, it is easy to use with the default remote control. It has a lower row and you can customize your UI in accordance with your hobbies. As an Android TV box, it is certain that the X96Q supports numerous Android applications, such as the KDDI addon player, Netflix, YouTube, Hulu, Chrome, and much more. You can download the applications you want from the Google Play store. For applications that cannot be installed from Play Store, you could install them by downloading the relevant APK package like our popular MARS TV X app.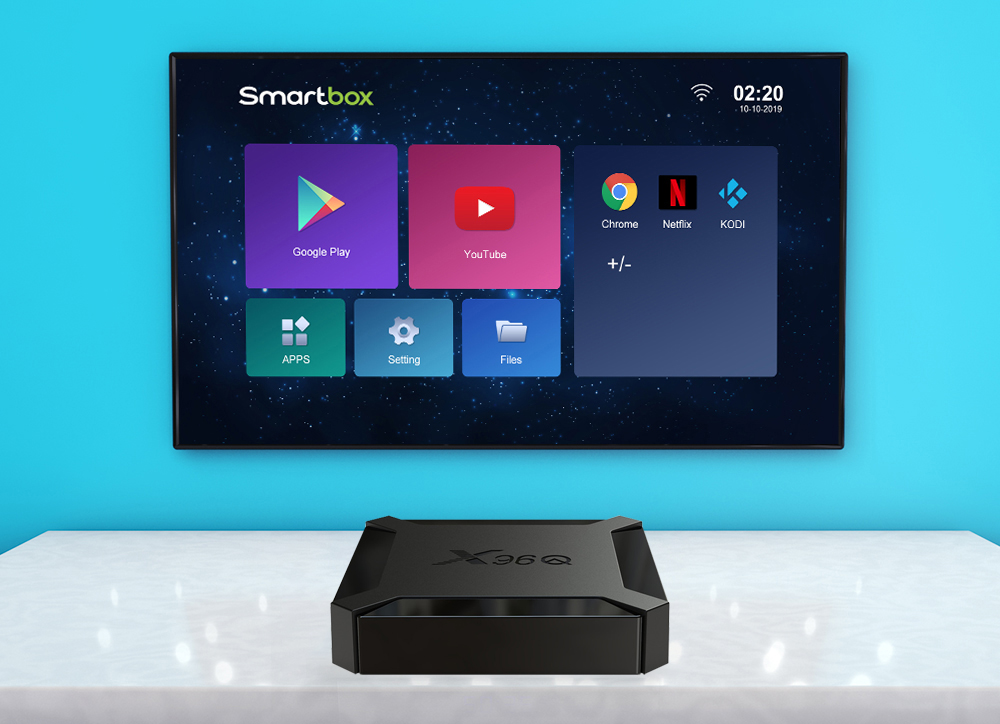 Different types of power adapters
We will send the correct power adapter which is suitable for you according to the shipping address or your requirement.